The TOTEM Pop Up office incorporates everything that a larger office has in an extremely compact package. One side of the pavilion version (pictured left & below), is dedicated to an individual office. A relatively comfortable desk space, utilizing full height adjustability and induction charging. On the opposing side, a shallower, bar-style surface encourages touch-down behavior where standing is preferred. The bar surface also offers induction charging as well as full height adjustability to meet the needs of those that may be confined to a wheelchair.
In the pavilion version, shown, personal space is enhanced by utilizing an overhead canopy of natural felt acoustic baffles to create a 'roof' structure that functionally abates sound, and helps to differentiate space. Further definition of the TOTEM environment is created by the linear LED fixture that can be operated by the occupant. The height of the pavilion version makes it ideal for being recognized from afar.
TOTEM's moniker relates directly to the word's definition; A symbol that serves as an emblem of a group. In this way, TOTEM is a structure that is inviting from 360°, represeting the desire of contemporary office workers to be both connected and sheltered from their environment.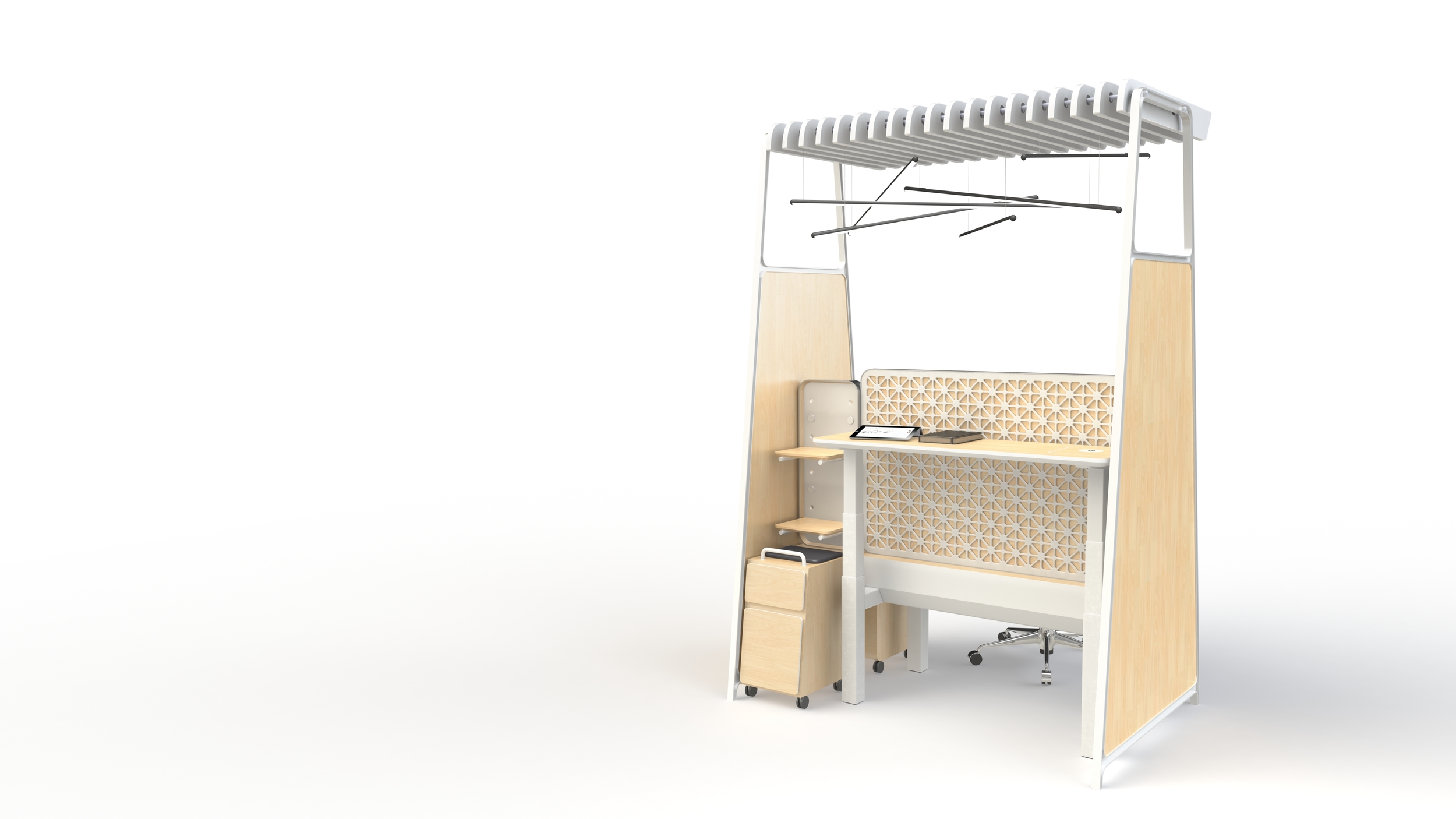 What The Competition Judges Said
To me good product design takes existing solutions, and evolves them to the next level. Where this one excels, is in the proportions, and acknowledgment of how people work today in the office environment. It also provides some of the privacy needs lacking in many of today's modern office furniture designs, for better head's down working, and potentially increased productivity. Totem is perfect for hoteling touch down needs, and quick meeting interaction with others, all within its refined and minimal footprint. The proportions and use of materials completes the success of this piece, allowing for some individuality, yet in its current form, utilizing Merit Maple and aluminum, is restrained and clear. The designer made smart decisions from the macro to the micro, in a balanced and sophisticated way. -Tom Marquardt, Design Principal, HDR

"As an open plan system I could see this product finding success in progressive organizations that want the flexibility of open plan without the downsides of distraction and perceptions of lack-of-privacy." - Alex Carmichael, VP Marketing, Watson Furniture

"This solution is pretty much "ready to go;" one that could be proposed to and used on a number of corporate, institution and public projects right now. I especially see this useful in higher-ed and civic situations like a university library (as a carrel) or airport (as a drop-in work space)." - David Stone, Design Director, Nelson Boston

""Totem" addressed the competition criteria the best and with a very well thought out design. The design addresses, acoustics, lighting, mobility, storage and perceived privacy." - Enza Parrella, Director Workplace, Unispace Global

"I would consider a version of it if SIXINCH were in that segment of our business." - Chris Crowley, AVP Sales, North America at Sixinch

"Totem appears to be simple to manufacture. It offers a sense of privacy. It can be arranged in a small footprint." - Jay Henriott, Senior Industrial Designer, Kimball Office

"This design achieves a lot in a small amount of space. It is a practical design that would aesthetic and acoustic elements to any office." - Todd Rieke, Owner, Rieke Office Interiors

"I liked Totem because it's an all-in-one system. The inclusion of the lighting is ingenious, particularly because lighting is often a second-thought. With the ways in which the office space is changing, it is a system that could work in open offices or communal spaces." - Kadie Yale, Editor-in-Chief, Interiors+Sources Magazine